Sinoxolo Mafevuka
It Is Well: An Ode to Karabo (2018) is the first fine-art-photography series ever exhibited by Lebo Thoka. In these self-portraits, the artist pays homage to some women killed at the hand of different men: "I use art to interrogate, to bring awareness, and to grapple with being a woman living in a patriarchal society".
Sadly, Lebo took inspiration from what was happening for real in South Africa in 2016; she was particularly shocked by the episode of "Karabo Mokoena, 22 years old, stabbed by her ex-boyfriend 27 times, set on fire and discarded onto a dumpsite", to whom she dedicated the series.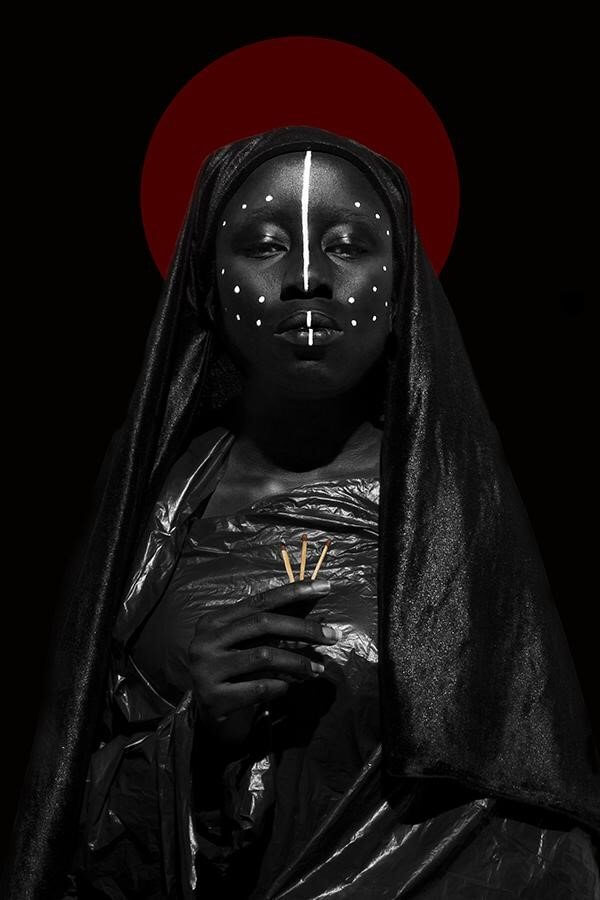 Karabo Mokoena, 22 years old,stabbed by her ex-boyfriend 27 times set on fire and discarded onto a dumpsite
All the shots in the series possess common features: the artist herself poses as a model for her own photos, but she differentiates each woman by inserting an attribute which, together with the long titles, alludes to the actual circumstances of the character's death. Each work is shocking, but the one devoted to "Sinoxolo Mafevuka, 19 years old, found naked, murdered and thrown into a communal toilet" leaves the viewers speechless: the woman is represented in a white tunic, with a veil made of toilet paper on the head, and while bearing a toilet brush, explanatory of what happened to Sinoxolo.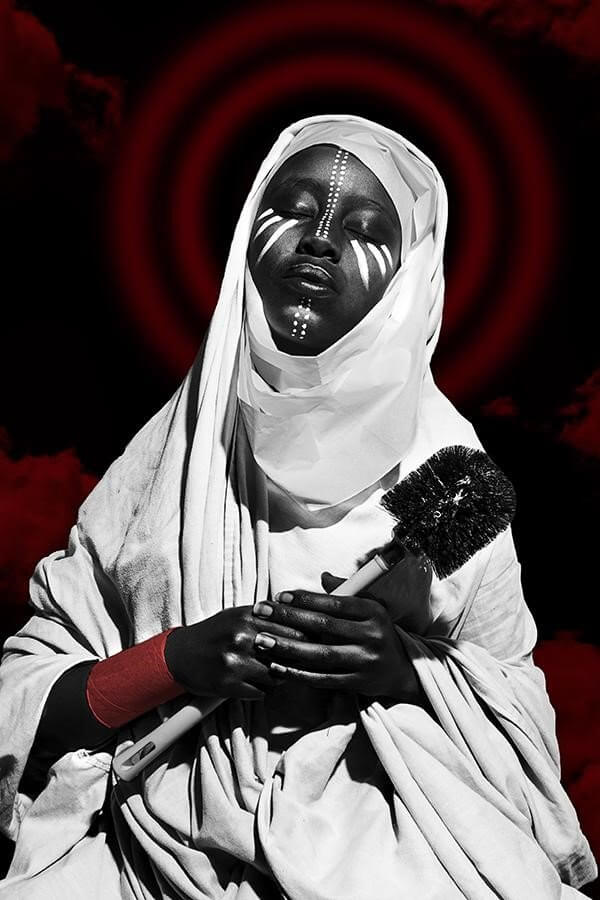 Lebo Thoka, Sinoxolo Mafevuka, 19 years old, found naked, murdered thrown into a communal toilet, 2020
A Domestic Worker 
In the photo series Seeds of the Dirt (2020), Lebo Thoka follows the theme of gender-based violence, representing South African women victims of violence once again; this time, the protagonists are still alive and can tell their stories by themselves. "Living as a black woman in a post-apartheid capitalist patriarchal South Africa, there are many aspects of one's black womanhood that met with violence", the artist denounces.
The recurrent motifs of It Is Well are improved and even more touching in this series, as it can be seen in Our Lady of Good Deliverance. In this shot, the viewer gets disoriented by the apparently pop and joyful background of the picture. At a deeper look, instead, the eyes are caught by the repeated pattern of the keys which create a framework around the character's face; the dog's leash around the woman's neck definitely pushes the observer to ask questions, and the caption comes to answer: "Domestic worker who was raped by her employer's 41-years-old son. She was locked in the attacker's room, repeatedly raped and forced to perform sexual acts with the homeowner's dog".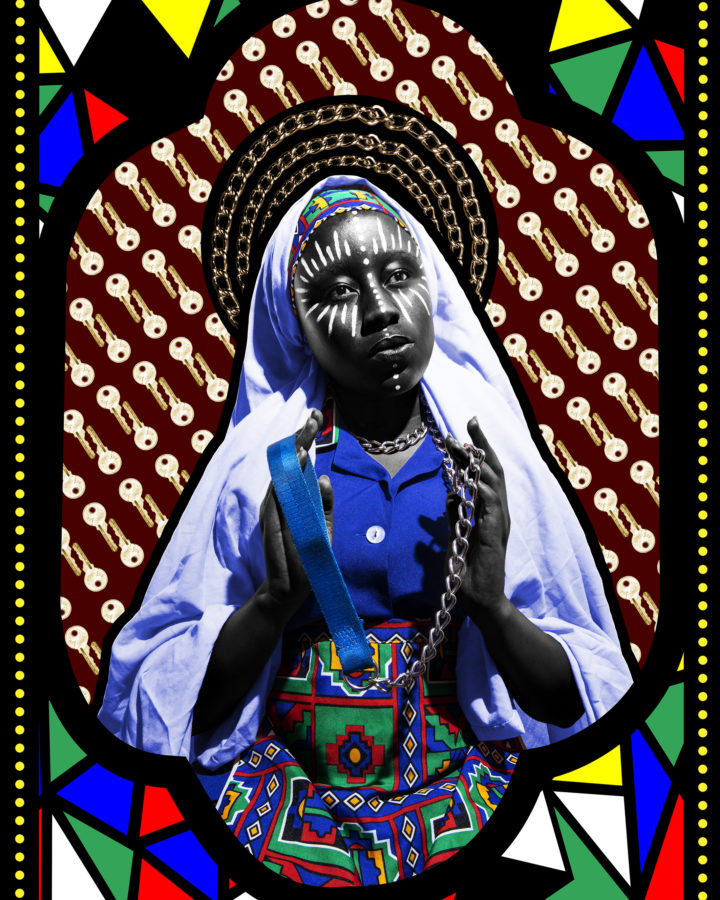 Lebo Thoka, Our lady of good deliverance, 2020
Black of My Flesh
Black of My Flesh (2020) is a separate work by Lebo Thoka. This time, the artist explores another crucial theme, the one of the African diaspora, which she does experience herself. In this shot, a traditional religious scene with the Virgin Mary is reinterpreted by Lebo from a black woman's perspective: "The simple action of changing a colour scheme begins to subvert the Eurocentric ideals that have set in stone the face of divinity and who it belongs to", says the artist.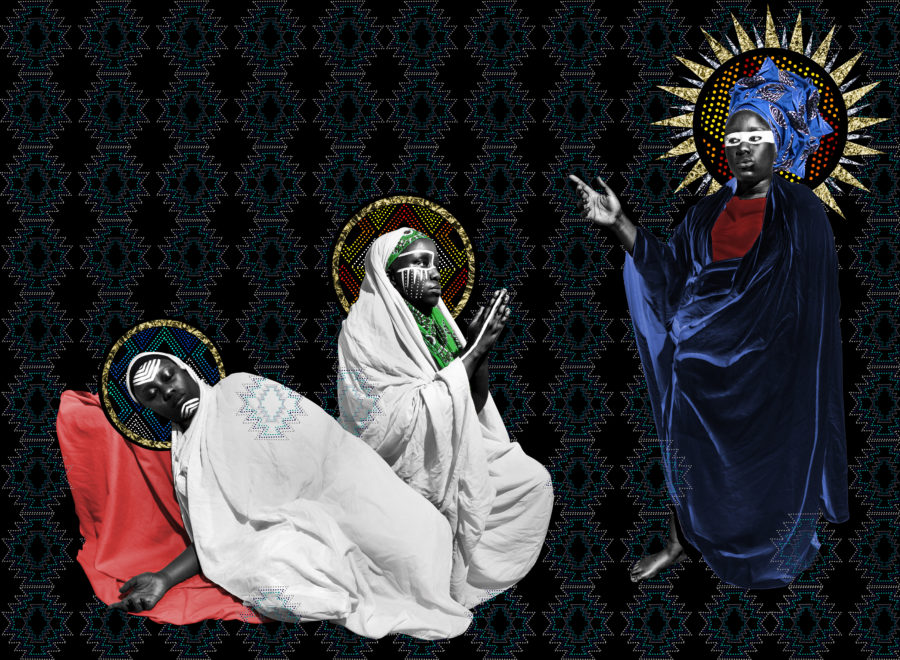 Lebo Thoka, Black of my Flesh, 2020
Black Mary, here, is the central character, and she is the means through which Thoka continues in exploring black womanhood, not only within our patriarchal society, but also within the historically established theological structures. The main goal is "To de-centre the normalised narrative of Western standards", trying to give to black people, and especially to black women, who are oppressed by the African diaspora, the same grandiosity, the same power and limitlessness that the typical sacred personalities do have. 
As a female photographer in a mostly male art field, Lebo Thoka asserts: "In my experience it has been going well, so far, but there is a lot of room for improvement in terms of opportunities for women artists". This is what this young artist focuses on, feminism, women's condition, black people's issues. In particular, she is committed to shed light on "The complexities of existing as a woman within an overtly violent society that only assigns value to women within the confine of race, class, religion, etc.", which are still tangible and solid in 21st-century world society. 
Check out Lebo's profile at akkaproject.com/artists to discover her ongoing and upcoming exhibitions!